Texas Shepherds
Dogs & Pedigree
These are just some of the sires, dams, and puppies we have had over the years.
Some are owned and belong to our sister kennel Vom Himmel Eck in San Antonio and Seattle,
and some are pictures of the World Champions that our stock derives from. Enjoy the pictures.
Below are some of the pedigree line to our dogs.
VA1 Zamp vom Thermodos – 2006 World Champion
Grandfather of our Nino Vom Himmel Eck
Descpription:
SURVEY REPORT: Large, strong, very typical, high withers, harmonious upper line, very good croup in length and position, very good angles of the fore and hind limbs, balanced chest ratios, correct front. Straight-lined, he shows powerful gears with a lot of space gain. Safe being, TSB pronounced; leaves.
2X VA1 Remo vom Fichtenschlag – 12′ 14′ World Champion
Grandfather of our Mecca vom Wasserhaus
Description:
SURVEY REPORT: Big, medium build, substantial, very good pigmentation, very good expression, masculine head, harmonious top & underline. Very good muscled formation, pronounced withers, correctly placed croup. Developed fore-chest proportions, very good angulations front & hind. Parallel movement, far-reaching gait, very good balance. Positive nerves, TSB pronounced; releases.
V2 XANTOS vom Niemberger Eck
Father of our Nino vom Himmel Eck
A true show ring stud. Belonged to our sister kennel in Seattle, Xantos was a beautiful and great temperament stud with dark red color in his coat. A true pleasure to have know him and own his son.
5XSG1, VP2, (SG3 NASS JKL 2013) Belmondo vom Köriser See
Father of our Mecca vom Wasserhaus
Belmondo is a son of the World Champion Remo vom Fichtenschlag. He was shown three times and won 2 shows. VP1 and in Chicago at the NASS was VP2 in puppies class 6-9 months. He was only 6 months old at the show.
2013 was very good for Belmondo as he won three shows. SG1 in class 12-18 months and was SG3 NASS, best male from USA in the class.
2014 SG1 NASS.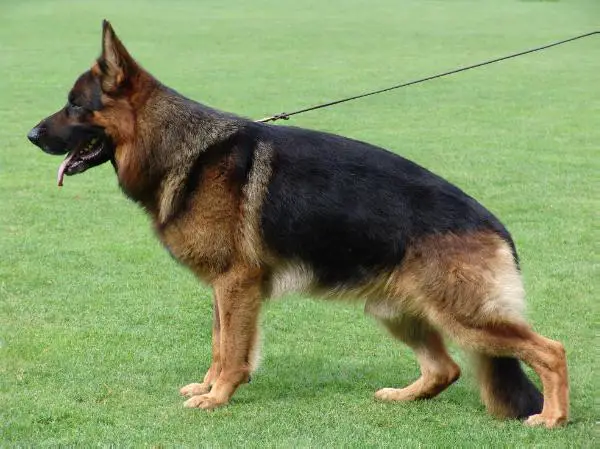 V 81 BSZS 2012 Aladin vom Bergmannsland
GrandFather of our Lola von Hirschberg
Aladin is a great looking dog with one of the best ratings for bite-work stateside. He is a great standard of what a working dog should act and be for protection. We are proud to own Lola as his granddaughter.
Below we have our current and some of our past Studs and Dams
Nino von Himmel Eck
Grandson to VA1 Zamp vom Thermodos world champion!
Grandson to world champion VA1 Zamp vom Thermodos and son to V2 Xantos vom Niemberger Eck and VA Wilma von Nozzedil, Nino exemplifies a very clear in head mindset.
Nino embodies a soft temperament and natural intelligence, along with an easy grace and outstanding physical qualities. Displaying a high drive, he is exceedingly protective, while also remarkably gentle and calm with the children.
Hydro vom Himmel Eck – Sold
Hydro was very sharp and intelligent but at the same time he was a gentle and very caring companion. Great with children and other home pets, he found a great home with a lifetime friend. He is just one example of our forever home dogs we produce. He will be missed.
Mecca vom Wasserhaus
Daughter of 5XSG1, VP2 Belmondo vom Köriser See, and granddaughter to 2X VA1 Remo vom Fichtenschlag; Mecca is our pride and joy. She is very alert and clear in the head. First thing that stuck about her was her dark pigment and smooth and elegant strut. Without a doubt she will deliver many great family companions to our customers and make us proud. We are excited to develop our breeding line with her.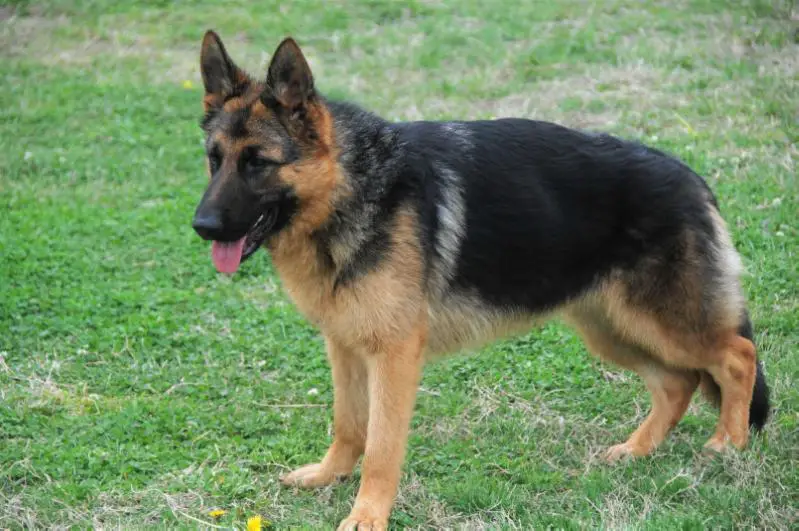 Lola von Hirschberg
Granddaughter of V 81 Aladin vom Bergmannsland, Lola is the newest addition to our kennel family. We cant wait to produce top quality offsprings from her great line. Her big boned structure and alert character represents what a protection dog should look and act like. Great with kids and other pets, her offspring should follow her temperament.
Mocha von Himmel Eck – SOLD

Daughter to VA9 (NASS) Wilma von Nozzedil SCHH3
Daughter to SG1 Zecka von Bad-Boll (One of the most respected and top producing kennels in Germany) and IPO3 SG1 V Aron von Himmel Eck, Mocha is a perfect example of an alert mind and highly protective temperament.
Mocha is a remarkably ambitious young female with amazing structure and superb movement. She exhibits an extremely high drive, is exceptionally protective, and particularly alert. Rich in color, she has a true double coat and shows it to her advantage. Anyone in need of protection qualities from a German Shepherd can be sure to find them in her offspring.
VA9 (NASS) Wilma von Nozzedil
Mother of our Nino vom Himmel Eck
Medium-sized, medium strong and expressive, dry and strong dam, good head, high resistance, firm straight back with slightly sloping croup. the upper arm should be an idea oblique. Very good Hinterhandwinklung, mature breasts. correct front correct step sequence. The dam shows expansive fluid movement with powerful replenishment and free access. TSB: pronounced, drops off. HD Findings: a normal ED Findings a normal Special Benefits: Very type and expressive female with very nice upper and lower line.
Rocki von Himmel Eck
Son of VA6 Risco vom Suentelstein
Owned by sister kennel
Big to medium structure with a thick coat. Rocki has a soft temperament yet driven to please his owner on point with commands. He has had some previous Schutzhund that truly shows in his obedience and clear in the mind mentality. He is an amazing companion to our sister kennel in San Antonio and we love to see him in our current lineup.
V Aron von Himmel Eck – For Sale
Grandson to VA1 Zamp vom Thermodos world champion!
This is one of the most beautiful pigments and temperament we have seen in a stud. Currently resides in our sister kennel in the northwest, he has produced many fine litters. Aron has a large head structure to him that compliments his body structure very well. He is currently in our breeding program but we do have him listed as a stud and is currently for sale for the right buyer.
Axa von Bad-Boll
Imported from one of the most respected kennels in Germany, Axa has produced some great offspring's for our clients and their families. She is currently in our Seattle location.
Atacki von Bad-Boll
Atacki is the sister of Axa and was imported at the same time with her. She as well is still in our breeding program and has also produced many great companions.